Giveaways
BEYBLADE WORLD GIVEAWAY - DECEMBER 2011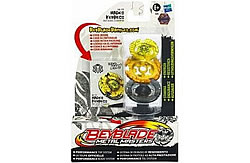 Beyblade Metal Masters HADES KERBECS BD145S STAMINA - Brand New

RULES
Exclusive for Zankye's Youtube Channel Subscribers ONLY. Go to
http://www.youtube.com/watch?v=YkYNCzwP64c
LIKE this Video and Type "Enter Me" in the Comments. Giveaway Expires December 31st 2011 ad 11h59pm. Enter Now ! Good Luck
---
BEYBLADE WORLD GIVEAWAY - JANUARY 2012
Beyblade W105R2F GALAXY PEGASIS + Battle Stadium

RULES
Exclusive for Zankye's Youtube Channel Subscribers ONLY. This promotion is in no way sponsored, endorsed or administered by, or associated with, Facebook. You are providing your information to Beyblade World and not to Facebook. The information you provide will only be used for the giveaway and not for a Third party.
DISCLAIMERS

To be able to qualify, you need to have a legit YouTube account , Click "LIKE"on the designated video for the month (To be announced soon) and leave a constructive (positive) comment on the Video with your name at Zankye's Youtube Channel site, as well you the Youtube subscriber need to click on LIKE on the beybladeworld Facebook fan Page
(See Image below) to be able to qualify.
You need both entries to be able to qualify.DOUBLE ENTRIES WILL DESQUALIFY. Cyber bullying automatically disqualifies from the giveaway and the user will be banned from the channel. Giveaway entries starts on the 1st , and lasts until the 24th of each month. Random drawing to be held on the 25th of each month.
Good Luck