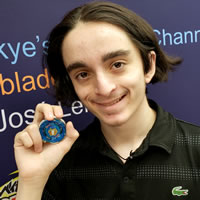 Welcome to my website Beyblade World by José Lemos - Youtube Zankye's Channel. This site is a support site for my Zankye Youtube channel. In here you can find news and reviews, unboxing of newer beys, stadiums, launchers or other, related to beyblades.
Giveaways will be taking place every Sunday in our YouTube Channel. I really appreciate your support and hope you enjoy my site.
You can subscribe to my Youtube Channel . "Thanks for watching please subscribe to my channel" had been my message to you fellow beybladers, and I want to thank all for the support. I really have a passion for Beyblades.
3.....2......1....Let it rip !